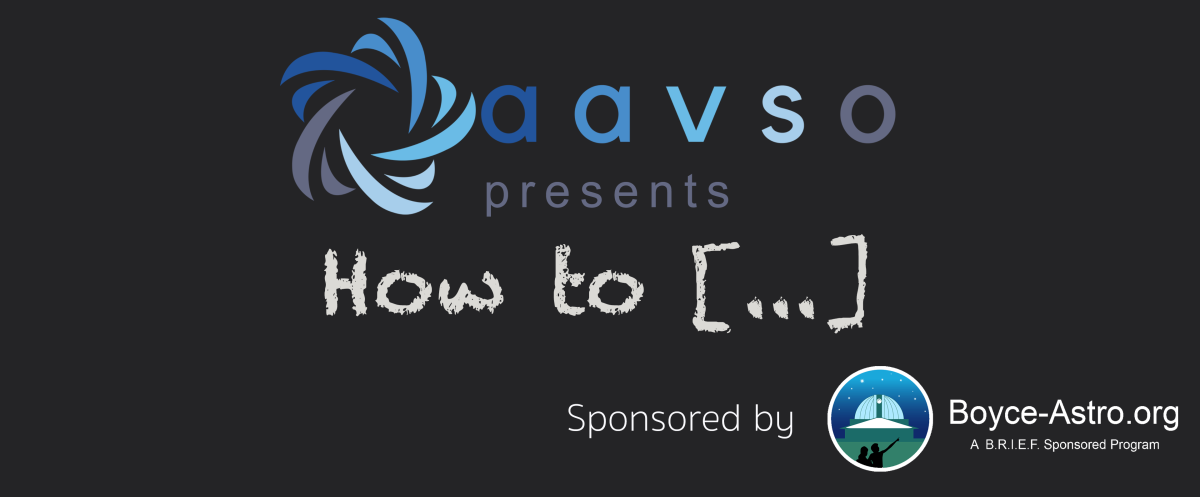 See what Boyce-Astro can do for you!
 Each webinar provides instruction on a different astronomy-related activity or topic! 
Join us in these Zoom webinars to learn from  guest expert instructors, ask questions, and meet others with the same interest! The audience-driven nature of the Q&A leads to some quite extensive discussions, so there is no set cut-off time for the majority of these sessions.
Any cost? No, they are free to encourage your astronomy education!
When: The first Saturday of each month* in 2023 
            2 p.m. Eastern Time (19:00 UTC from January through March, 18:00 UTC from April through October, and 19:00
            UTC in December). 
              * Please note the exception: A webinar will take place Oct. 28 instead of Nov. 4 due to our Annual Meeting.
 We have TWO webinars in April: 
one on the first, and the other in recognition of Astronomy Day on the 29th! 
 April 1 @ 18:00 UT (2 p.m. ET)  How to [use AAVSOnet to remotely observe variable stars]  Sign up 
Webinar description: AAVSOnet is a global network of remote telescopes which any AAVSO member can use! With observatories in every hemisphere, and telescopes ranging from 4" to 24" in size, AAVSOnet gives AAVSO members the ability to collect precision photometry of almost any star brighter than 18th magnitude. In this webinar, we'll begin with a tutorial showing you how to use AAVSOnet to get data of your own targets, presented by AAVSO Board Member Dr. Arne Henden. Next, we'll hear from three top users of AAVSOnet, each with an example of an exciting project you can tackle using AAVSOnet. Finally, we'll wrap up with a Q&A session, giving you the opportunity to ask questions and receive advice from the experts. If you're not familiar with AAVSOnet, and want to learn a bit about it before the webinar, visit aavso.org/aavsonet

The presenters:


Dr. Arne Henden has been the driving force behind AAVSOnet since its founding in 2005, and personally oversaw the commissioning of many of its telescopes. There's no
better person to ask about the ins and outs of AAVSOnet!
Enrique Boeneker has spent three years using AAVSOnet to study AS Cas, a multimode classical Cepheid.

Frank Schorr continually uses AAVSOnet to monitor a wide selection of long period variables, including W Cas and T Cep.

Phil Sullivan has spent several years using AAVSOnet to study a number of variable stars close to NGC 7790.
 April 29 @ 18:00 UT (2 p.m. ET)  How to [model isochrones using images of star clusters]  Sign up 
Webinar description: Star clusters have been described as ideal astrophysical "laboratories" because differences between the stars within them can be attributed completely to variations in initial mass. Students are drawn in by the alluringly beautiful images of the clusters and are excited to construct lovely color images of them. This in turn motivates them to learn about some of the (equally stunning!) physics that can be revealed by the colors in their image. It is a rewarding marriage of art and science!

Meet the instructor: Kalée Tock earned her B.S. in Chemistry from Harvard University, and an M.S. from the Stanford University Department of Chemistry. She then earned a second Master's degree in Learning, Design, and Technology from the Stanford School of Education. She has been a science instructor at Stanford Online High School for 11 years, teaching Astronomy for the most recent 6 of those years. She now teaches three different Astronomy courses there: Astrophysics, Astrobiology, and an Astronomy Research Seminar.

 
Webinar description: Are you tired of babysitting your telescope? This webinar is for you! In this hour-long panel discussion, we will discuss both the big picture ("What do I need to set up a remote observatory?") and the minutiae ("Will X software support Y camera?"). Conversation will center on the question at the forefront of everyone's minds: "How can I set my telescope up for automatic photometry?" This will be a highly interactive event, with lots of opportunities to ask questions. Come prepared by thinking up your best questions ahead of time!

Our panel includes four leading experts on observatory automation:

Peter Bealo, leader of the AAVSO Instrumentation & Equipment Section, and an experienced amateur astronomer.

Stefan Berg, creator of N.I.N.A., a free and open-source software for automating telescopes, observatories, and accessories.
Bob Denny, originator of the ASCOM Initiative, and developer of the automation software ACP Expert, whose AI scheduler is used by the AAVSO Photometric All-Sky Survey (APASS) to automatically observe a thousand square degrees per night.

Alan Sliski, an inventor who consults for advanced amateur astronomers, conducting observatory design and automation.
Webinar description: The discussion will be catered to an audience who is familiar with acquiring images and the basics of image calibration using bias, dark and flat frames. MaximDL will be used for analysis of the images that will be used in this session, and VPHOT for the photometry.

In this webinar, Mark will compare the basic characteristics of DSLR, CCD and CMOS cameras for stellar photometry by analyzing a set of images of T Cep taken with each type of camera on the same telescope. The emphasis will be on the practical consequences of the different characteristics: noise, resolution, sensitivity, etc.

The T Cep images were taken over several years, as Mark moved from one camera to the next. He will also mention some quirks and challenges he has encountered over the years while learning to use these cameras.

Meet your instructor: Mark de Jong (AAVSO observer DJX) took his first, and only, astronomy course at university more than 50 years ago. However, he did not start actively observing until 2006, with variable stars as his main interest. After contributing
over 1,000 visual observations on Long-period variables (LPVs), he moved on to DSLR, CCD, and then CMOS cameras for photometry, while continuing to primarily observe LPVs. Recently, he has served as an AAVSO Mentor for new DSLR and CMOS observers. He has a background in the physics of particle accelerators and has worked in government laboratories, universities, and the private industry.
Webinar description: Visual observing is an easy way to make a valuable contribution to science, even if you don't have much time or can't afford a telescope. There are hundreds of variable stars visible to the naked eye, and tens of thousands visible with binoculars, meaning that you'll never run out of fascinating targets to keep an eye on.

A few of the topics we'll cover:

Why should you make visual observations of variable stars?

Which variable stars should you observe?

How to get and use charts

How to make an estimate of your target's brightness

How to record and report your observations

What's the best observing cadence?

Equipment for observing

Tips & tricks for better observing
Meet your instructor: Sherrill Shaffer has contributed more than 24,000 visual observations to the AAVSO's database, most of them using binoculars. He also plays an important role in AAVSO's data validation process and is an AAVSO Mentor to other visual observers. Shaffer's Ph.D. is from Stanford University, and he has held affiliations with the Federal Reserve, the University of Wyoming, and the Australian National University. He is a retired economist who has been an amateur astronomer for more than 30 years, and an active variable star observer since 2009. 
You can also see the schedule of speakers and register for these free webinars in our interactive calendar.